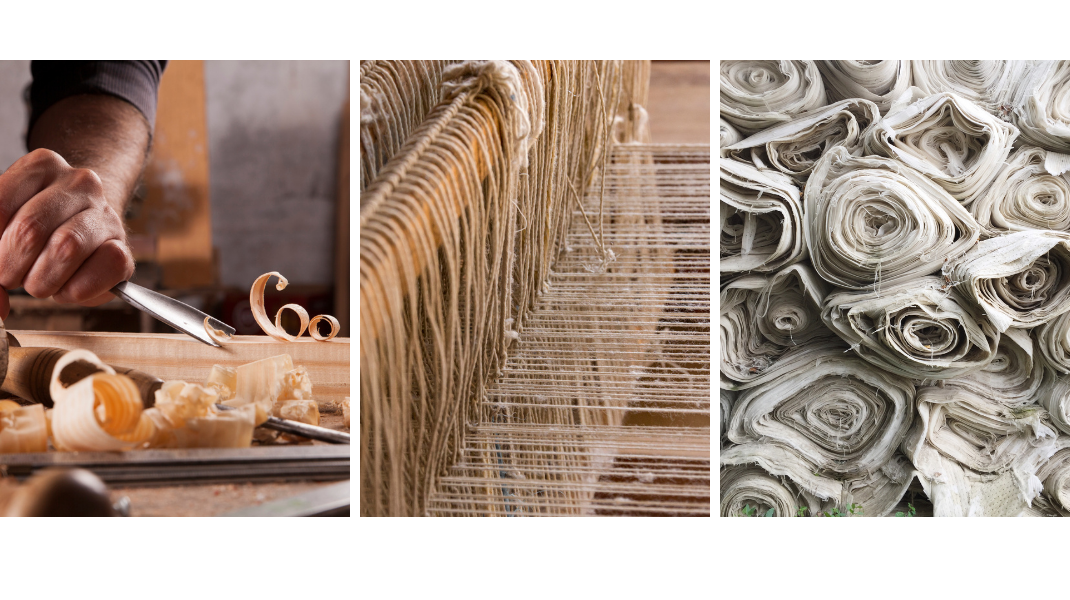 A Celebration of British Textile Craftsmanship
One of the leading interior 'trends' from the last few years has been the return of artisan textiles made with traditional weaving and printing techniques. As we increasingly look for a more sustainable way of living, the culture of throwaway items has begun to fade and, in its place, there is a growing emphasis on authentic artisanal furnishings that will last.
This has led to a renaissance in the British textile industry, driven by a desire to buy sustainable, local and authentically sourced materials. We are now seeking furniture and furnishings that are made from natural materials and created using traditional methods.
This artisan revival has led to an abundance of traditionally crafted textiles and natural textures. Raw weaves with pronounced warps and wefts, stubby fabrics in rustic checks and bouclés that resemble cloth cut from an artisan weaver's loom. Traditionally block-printed fabrics featuring abstract art with loose brushstrokes and playful daubs or ikats and motifs. Richly embroidered weaves and tapestries on all manner of natural fabrics including linens velvets and wool.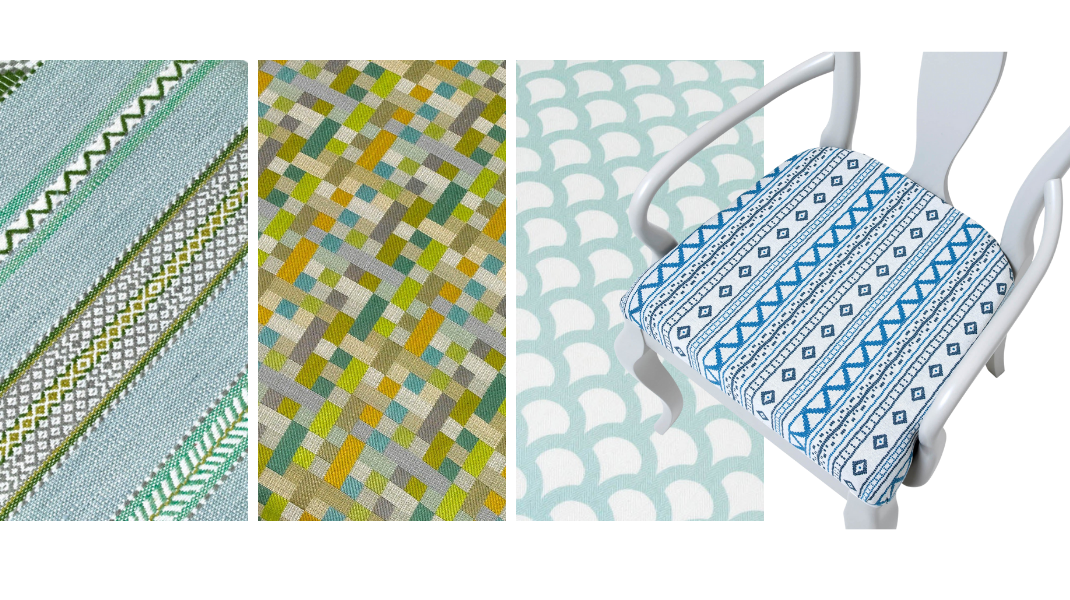 The driving force behind the resurgence in British textiles is a new crop of British textile artists creating vibrant and distinctive prints and weaves for interiors. This new breed of designers have skilfully incorporated the unique strengths of British textiles such as heritage, quality and traditional skills to create innovative fabric collections for today's consumer who seek a story and provenance behind their purchase.
Gabriella James, Chairmakers' designer fabric collection showcases some of the best British designers. Their stunning and luxurious creations are central to the beauty of the chairs and stools we create.
Here are four of our favourites.
Kit Kemp at Christopher Farr Cloth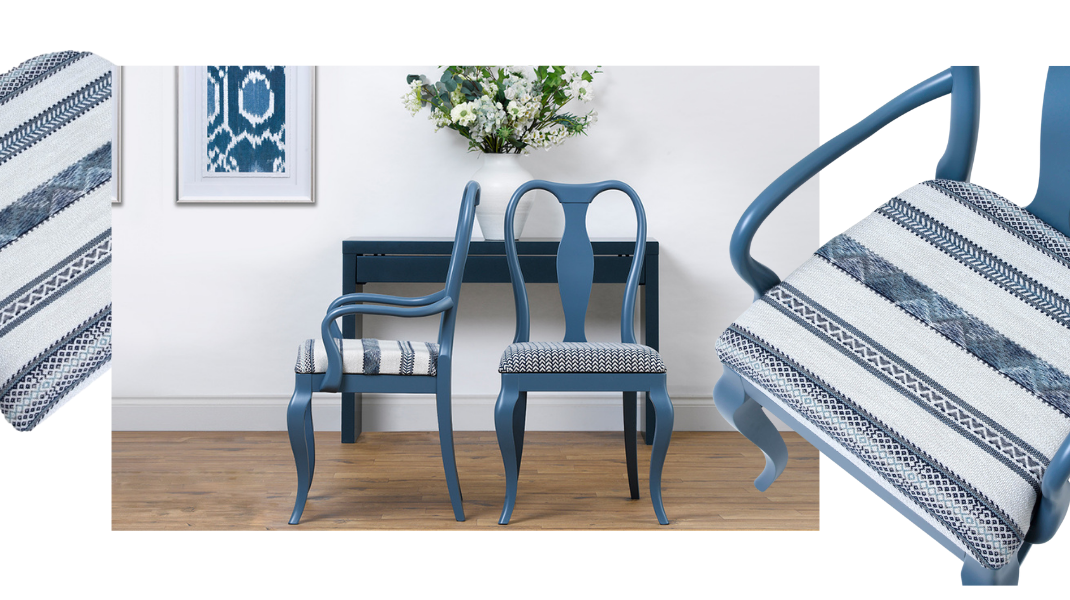 Award-winning interior designer Kit Kemp has been developing inspiring, vibrant interiors for almost three decades. With a background in graphic design, this self-taught creative has created her own quintessential British style.
Kemp is the creative force behind the hugely successful Firmdale Hotel group, a boutique collection of hotels renowned for their unique character and stylish use of colour. Her distinctive quirky designs have led her to collaborate with Christopher Farr Cloth to create an inspiring range of totally unique fabrics and wallpapers.
Our selection of Kit Kemp Weaves and prints draws on her whimsical style. It is a carefully curated collection of colourful eclectic patterns and joyful textured weaves to create luxurious chairs and bar stools that are as beautiful as they are comfortable.
View Collection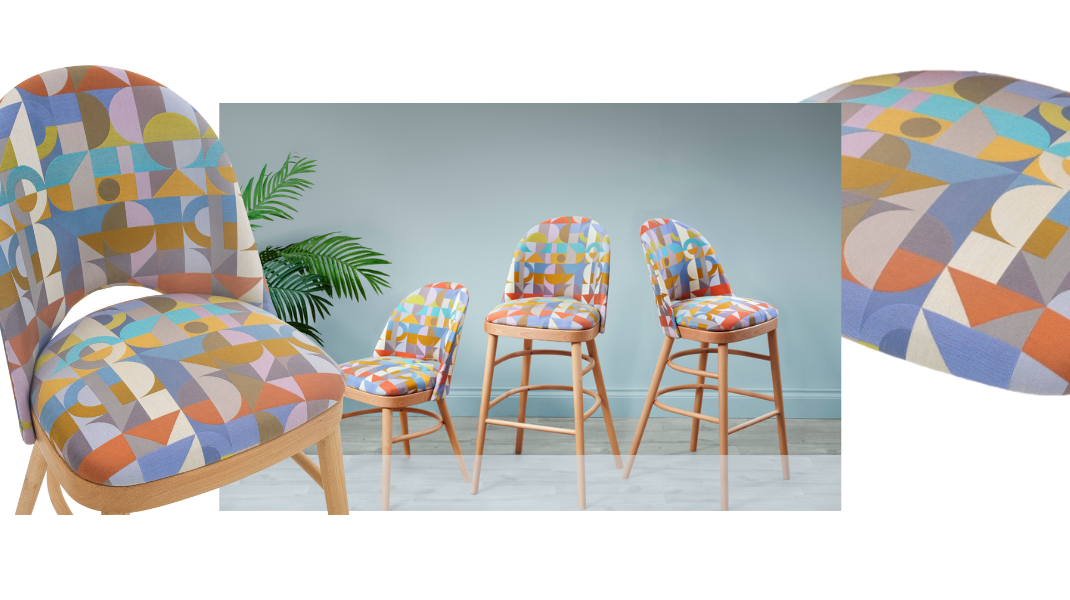 Margo Selby is a world renowned British textile designer. Her Jacquard woven textiles have pushed the boundaries of weaving to create contemporary upholstery fabrics that are brimming with colour and style.
Gabriella James, Chairmakers' selected weaves from her Memphis collection brings together a diverse and distinctive range of woven fabrics that are both decorative and luxurious. These jacquard weaves in harmonious but contrasting colours sit beautifully against a multitude of fresh paint colours to create chic and stylish chairs and bar stools to make a vibrant addition to any interior.
View Collection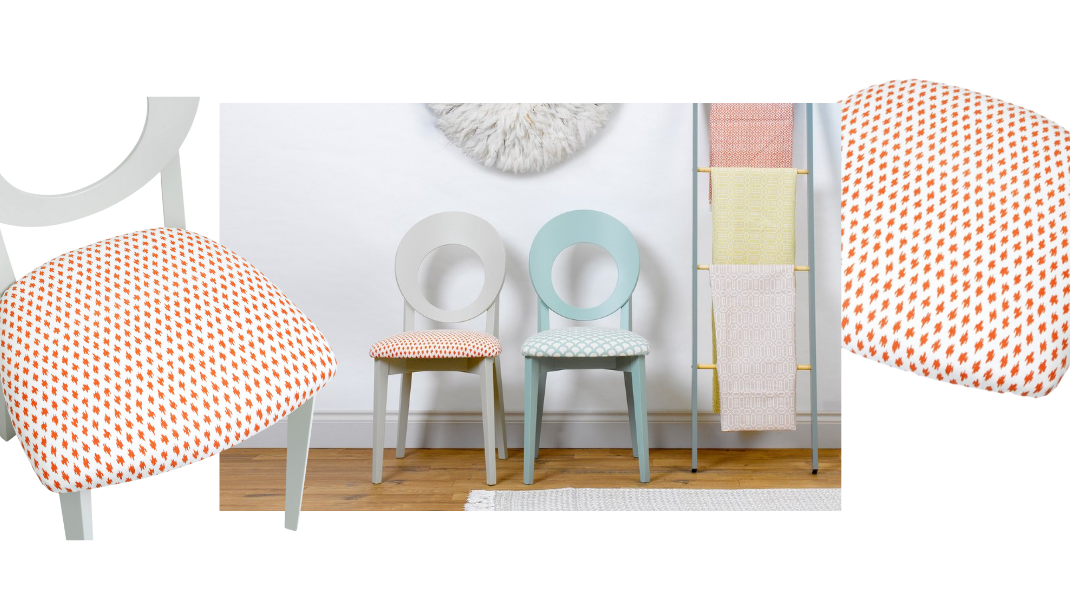 Penny Morrison is one of the most sought-after Interior Designers in Britain and around the world. Penny is renowned for creating unique designs through seemingly clashing combinations. Pairing unexpected patterns and palettes, her designs are a visual feast brimming with colour and exuding spontaneity and sophistication in equal measure.
Her collection of luxury prints and weaves is a rich accumulation of inspiration from cultures around the world, from Turkish embroidery and Japanese textiles to Anglo-Indian symbols and Ancient Greek motifs.
Andean Vertical Stripe and Anni Orange are stunning colourful designs that ensure the brand' chairs and bar stools will make a statement in any space.
View Collection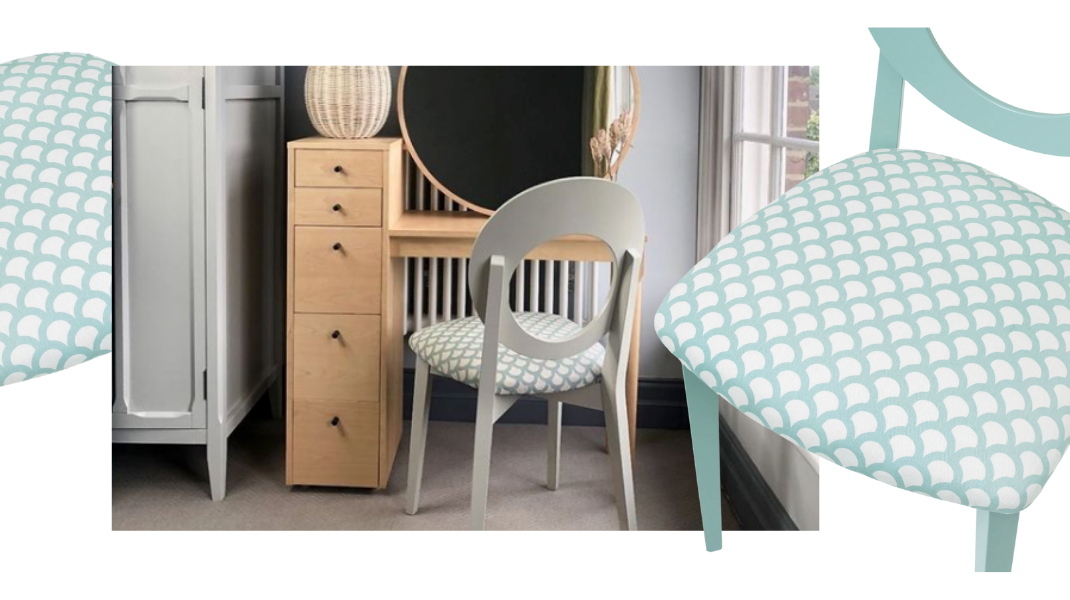 Korla, named after a town in China on the Silk Road, create gorgeously graphic fabrics mixing bold colours with strong patterns. All their fabrics are designed, woven and printed to the highest quality entirely in the UK.
Their collection of colourful and contemporary textiles is bold, fun and cheerful. Korla designs feature geometric shapes, small patterns, zigzags and scallops that are wonderfully light-hearted and frivolous. Their colour palette of bright, summery and cool shades is as striking as it is original. The brand's pair of signature Korla prints with their eye-catching paint finishes is effortlessly cool and will bring a fresh contemporary look to any style of interior.
View Collection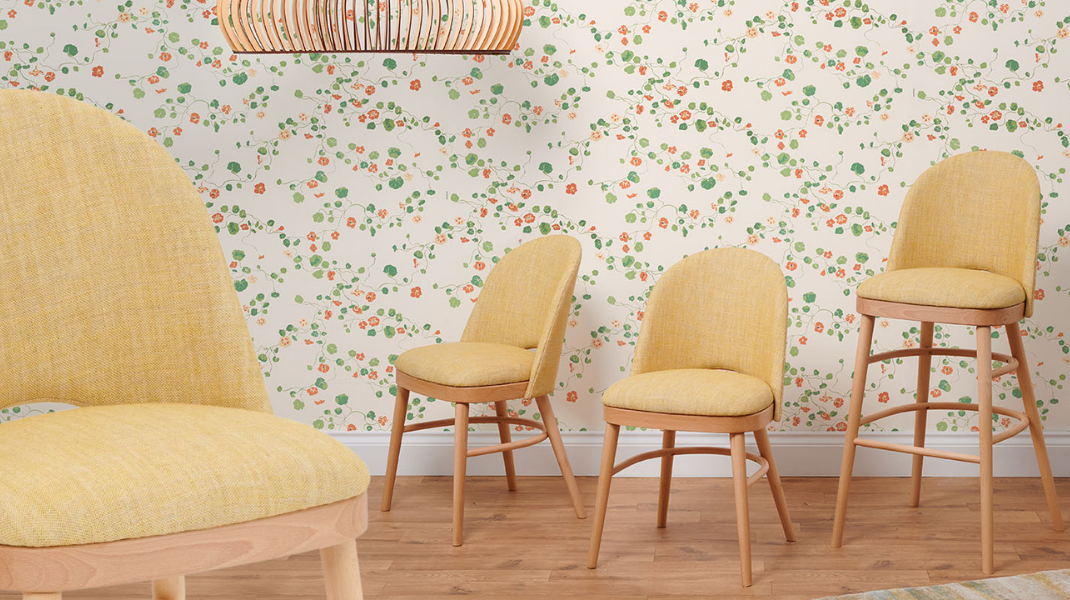 For Tom Helme and Martin Ephson, Farrow & Ball founders, the creation of Fermoie was a natural progression taking their deep expertise in colour and light to a new, more textural dimension.
Fermoie fabrics are designed in house and printed in their Marlborough factory. What makes them so unique is not only their design and but their traditional printing techniques. Layers of colour from natural pigments are used to create a rich and varied pool of colours that feed into all their collections.
View Collection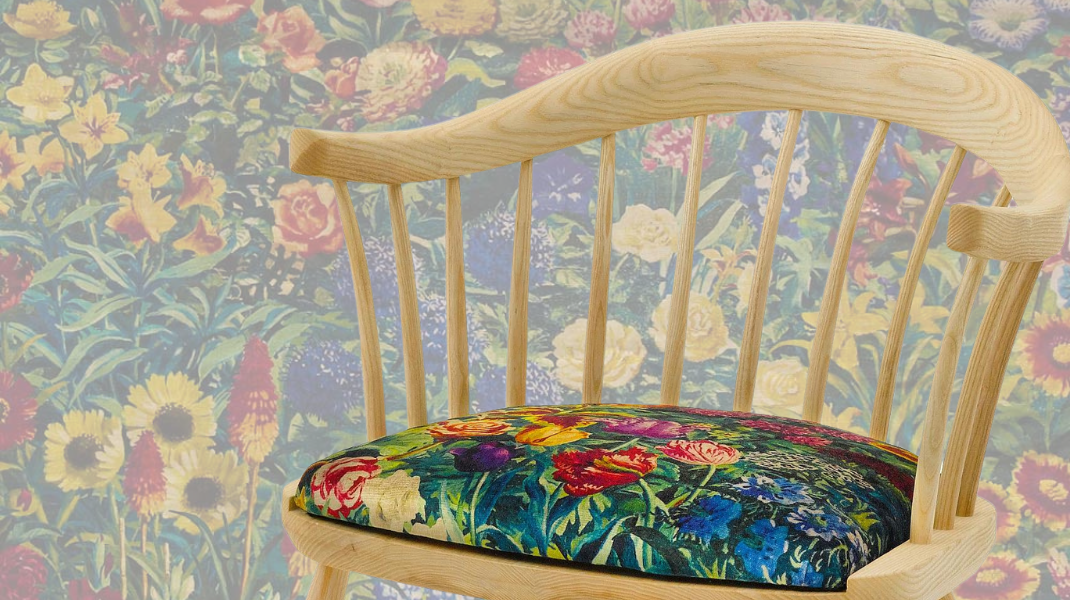 An inspiring mix of archive prints alongside contemporary designs, our Liberty London velvet collection draws on inspirations including antique doll and cabinet houses to Frances Hodgson Burnett's The Secret Garden. Printed onto premium quality velvets, each design will bring an opulent and luxurious touch to any room.
View Collection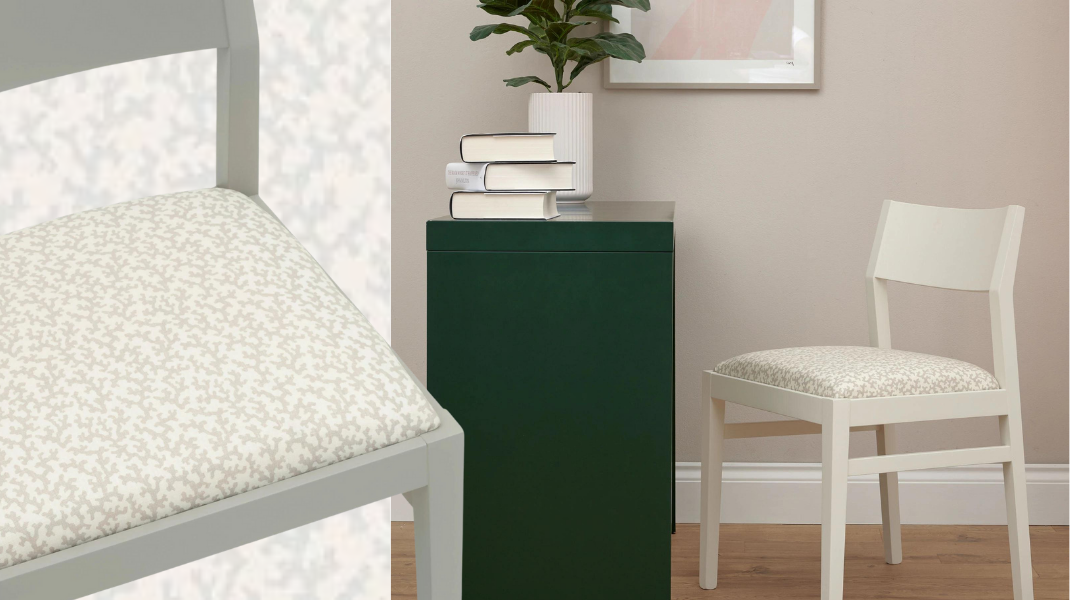 Veere Grenney designs are best described as the epitome of English elegance and style. Describing his style as contemporary classicism, his luxurious printed linens are characterised by classic style lattice designs that have a subtle discordant or contemporary note. Without doubt he is a master of contrasting styles that are both harmonious yet exciting.
View Collection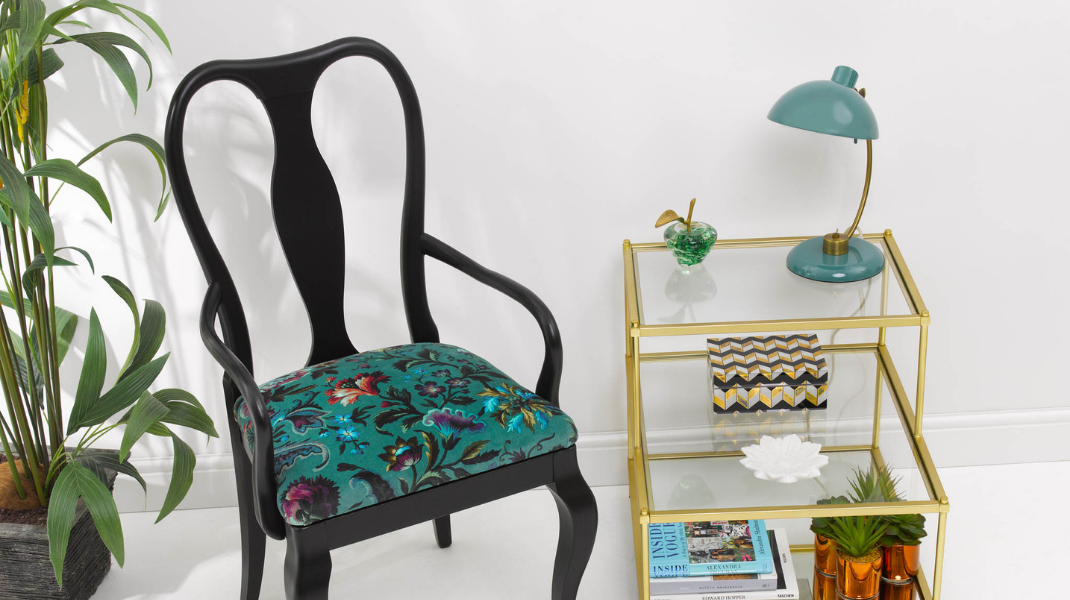 After 10 or so years of minimalism dominating the interior design scene, House of Hackney was created in 2011 to bring back texture, colour and feeling into the home and to fashion.  At Gabriella James we share their maximalist design aesthetic and fell in love at first sight with their stunning designs. 
View Collection
Today, thanks to British innovative designers, we are all able to add character and personality to our homes. We are able to choose furniture and fabrics that are traditionally made from authentic natural materials, and create warm, inviting interiors that are uniquely individual and tell their own special story.