Buying Guide - Bar Stools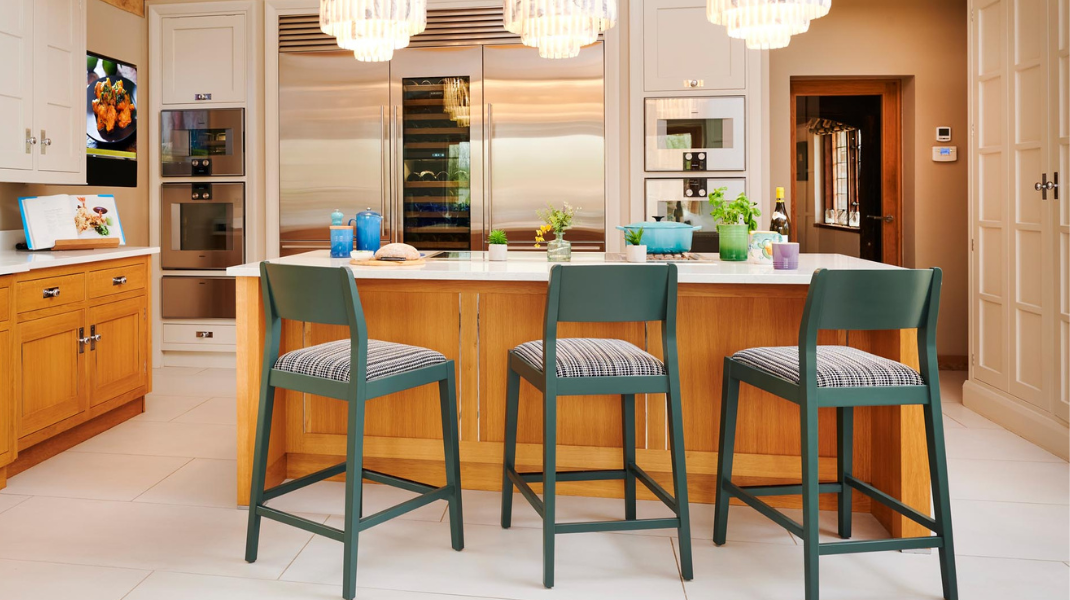 The Statement kitchen island is the one of the biggest trends in kitchen design. It is becoming an essential feature of any kitchen and one of the most versatile, accommodating food prep, cooking, and storage as well as work, relaxed socialising and informal
meals.
Following this trend, designer kitchen stools are now one of the most important kitchen ingredients! They have become a crucial kitchen accessory - one that will be used day in day out and needs to be suited to the multifunctional role of the kitchen island. Bar stools must be functional, stylish and most of all, comfortable. 
But there is far more to it than that. Not only do designer bar stools need to be the right height for the island, they need to match the overall aesthetic of the kitchen. If the kitchen is open plan, the stools also need to match the overall living space.
With today's abundance of beautiful designer fabrics, bar stools now have the potential to become a stunning accessory that will bring a kitchen design to life.
So how do you choose the perfect stools for your kitchen island?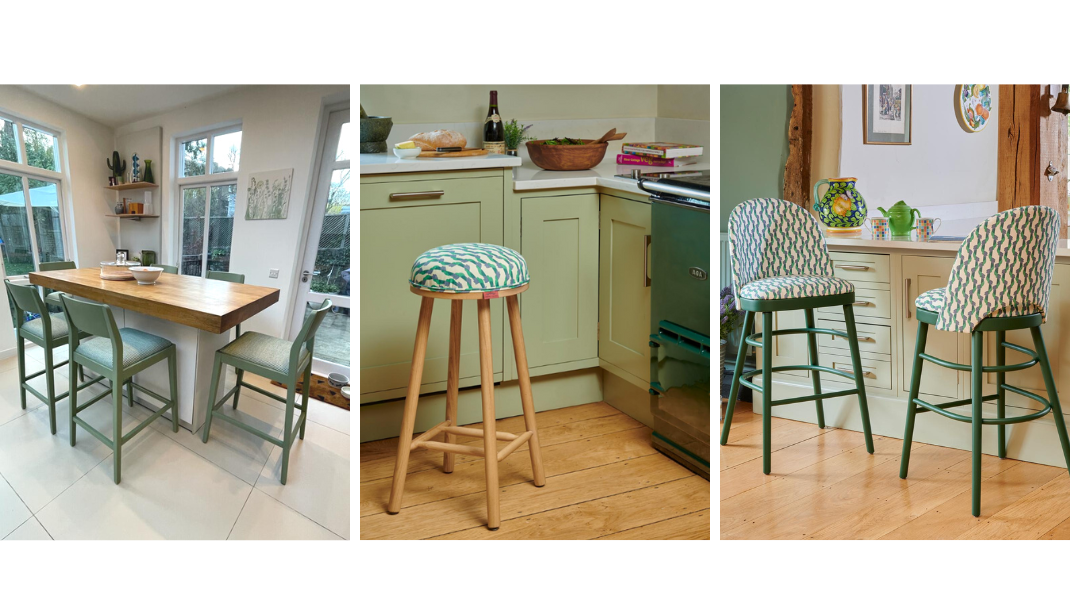 1. Think about which type of stool will work best for you
High-backed bar stools are more comfortable and offer ample support but can be bulkier, particularly if you are short on space.  Counter stools provide a more minimal look and are easily tucked away under the counter. Some islands are split into two levels. Families with young children less able to perch on stools, may opt for the lower level as more of a table with chairs and have stools for the higher level.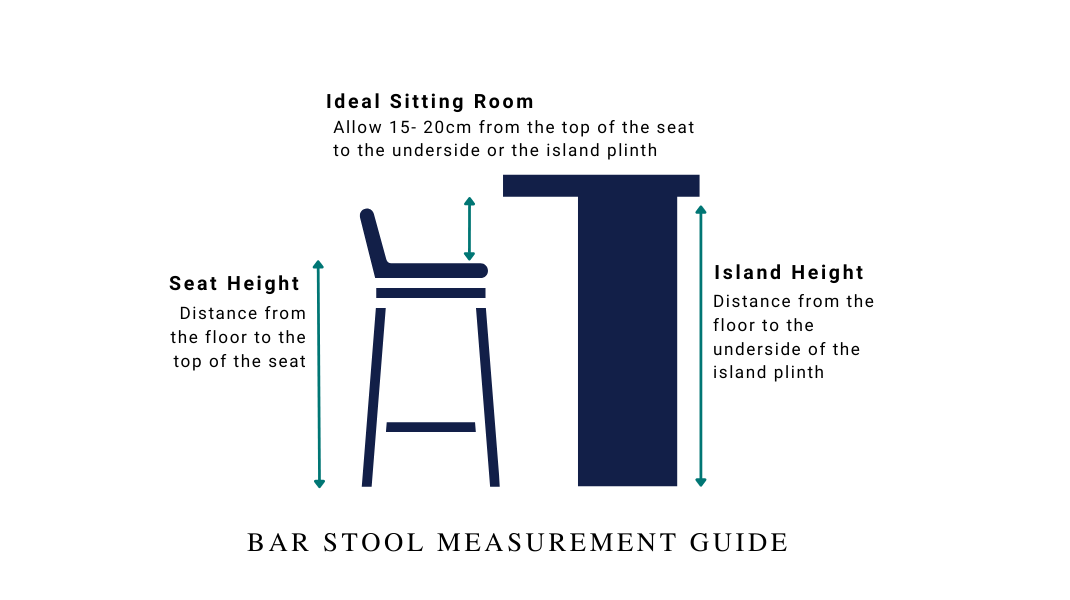 2. Consider the ergonomics of your designer bar stools
An overhang of a purpose-built island is referred to as a peninsula island. It is usually a bespoke option and essentially an extension of your kitchen worktop. This is a logical feature that will allow for seating and can accommodate luxury bar stools very comfortably.
Not all kitchen islands are the same dimensions, and the height of the counter varies. The height of the seat of your bar stool is crucial. There is nothing worse than sitting too high or too low! Generally, the average height of an island is 90cm, and you will need around 20cm for sitting room. Therefore, the height of your stool seats needs to be 70cm.
However, the depth or thickness of the counter plinth will vary. It is Important that you carefully measure the height before buying your bar stools. Always measure from the underside of the island to the floor.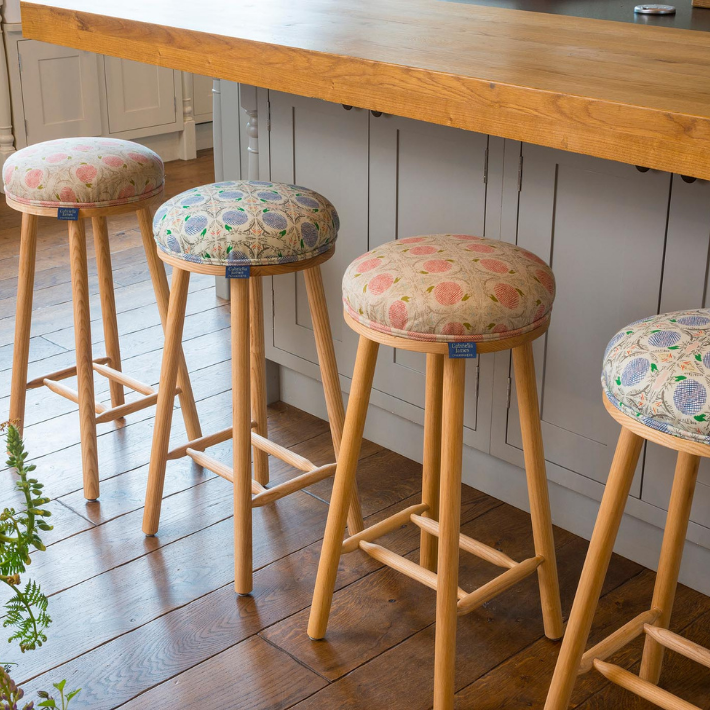 To perch or to sit?
Importantly you need to decide if you want to casually perch at your island or sit right back and relax.
We generally 'perch' on a counter stool 'against' an island, usually keeping our feet on the ground. This brings our posture quite forward making it quite easy to reach up or across an island.
Bar stools have much deeper seats that encourage us to sit right back into the stool, pushing our posture back and more under an island. It is important to make sure the seat height of a bar stool is not too low, and you can comfortably reach across the top to work or socialise.
Unlike many other chairmakers, we can adjust the seat height of our luxury bar stools to comfortably fit any island height.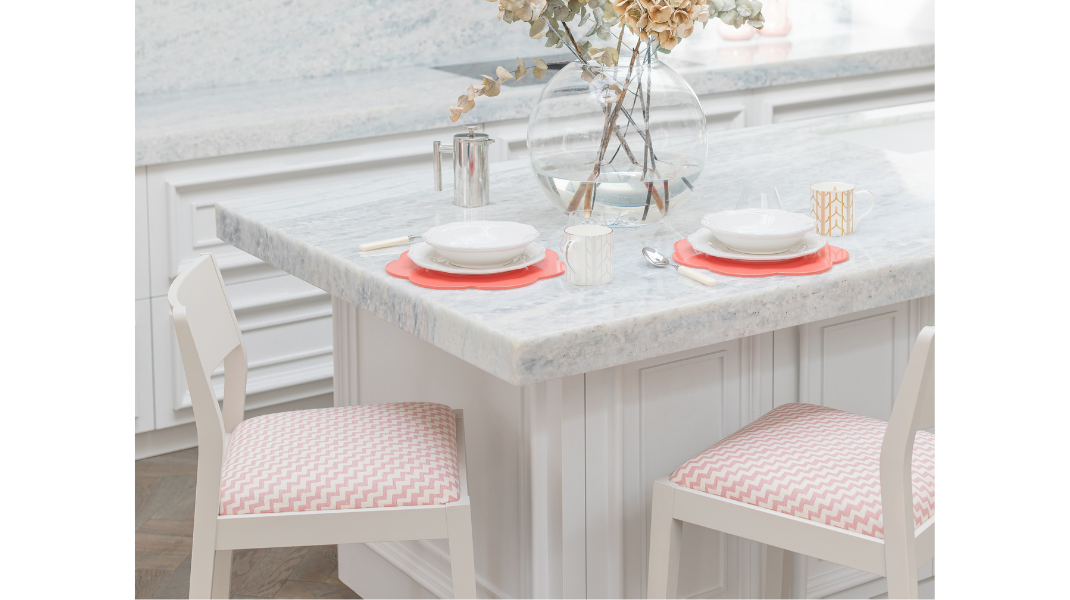 3. And don't forget that all-important elbow room
The other thing to think about when buying made to order bar stools is the number you need, not just for your family to sit on but to nicely fit into the space. Remember, it's not just about height; it's about the width too - the last thing you want is to feel hemmed in.
Ideally, you need between 10 -15 cm of space in between stools to move freely without your arms touching your neighbours'. However, around an island is a more informal seating arrangement, so people generally need less elbow room on a bar stool than they would on a dining chair and so 10cm is often sufficient.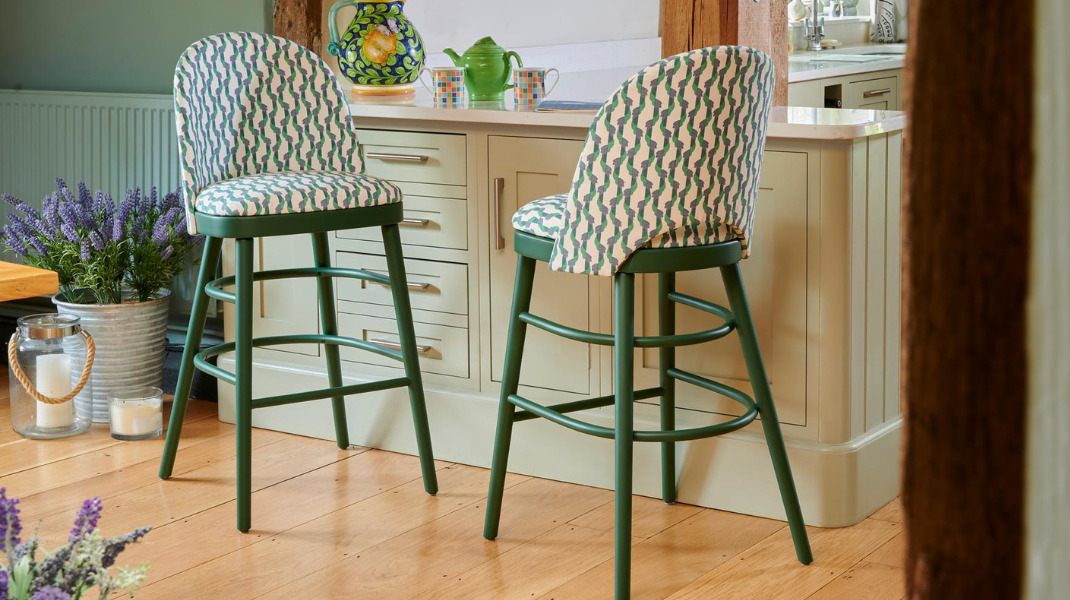 4. Get fabulous with your bar stool finish and fabric
Onto the fun bit now that everyone loves, choosing the style and colour of your kitchen bar stools. Ideally, you want them to work with your kitchen decor for a wholesome, warm scheme yet ultimately be incredibly comfy. At Gabriella James, Chairmakers we have a fabulous collection of made to order bar stools in many colourways, designer fabrics and specialist linen that can be adjusted to fit any island.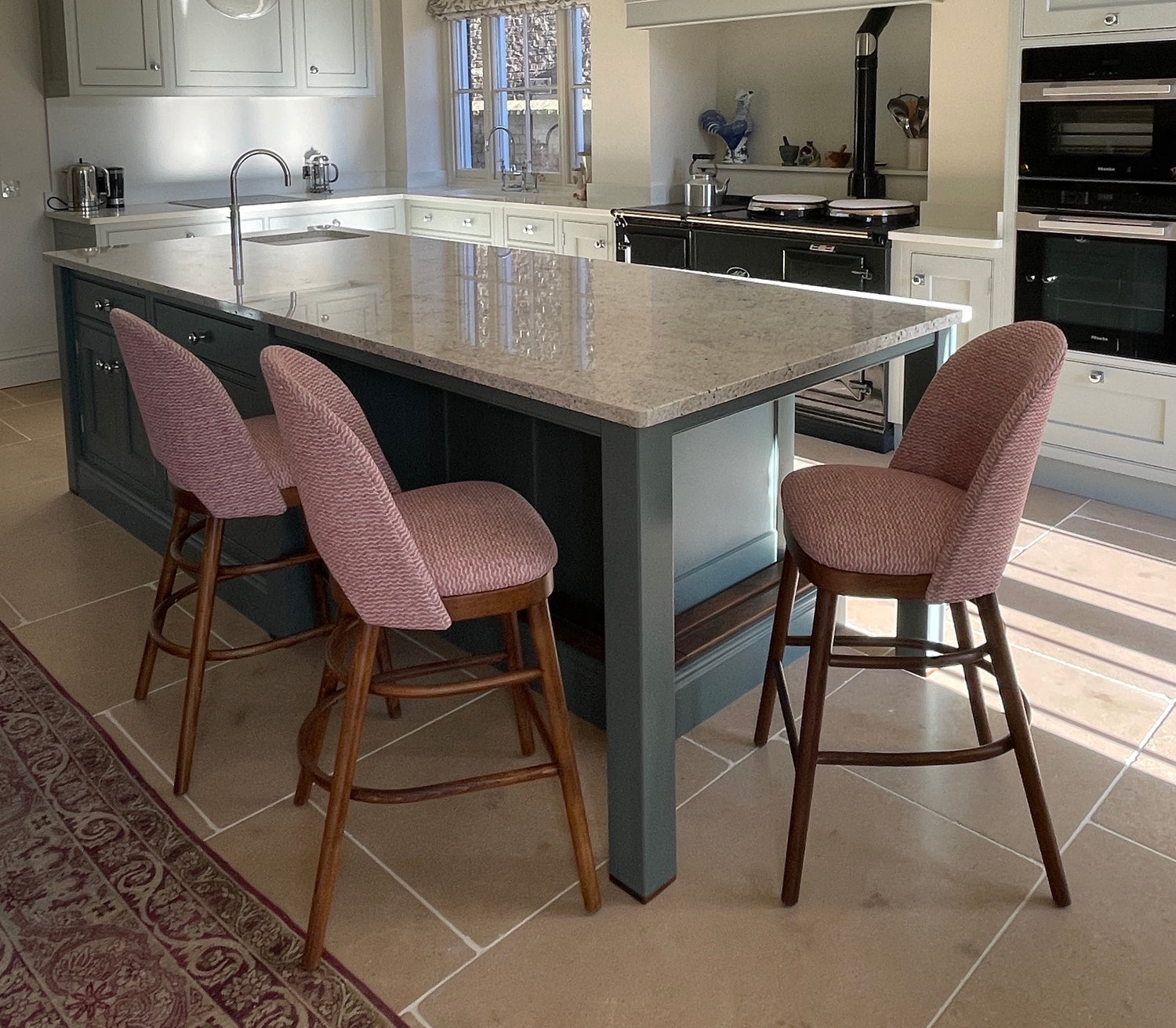 Our 4 models, the James and the compact Oxford, the Ella and the Turner can be made to order in your choice of fabric and finish. Our specialist team can paint the frames any colour to perfectly match the colour of your kitchen. So whether you prefer a more muted palette or vibrant colour, we have a bar stool to suit any taste. any colour that are available in many colourways, designer fabrics and specialist linen.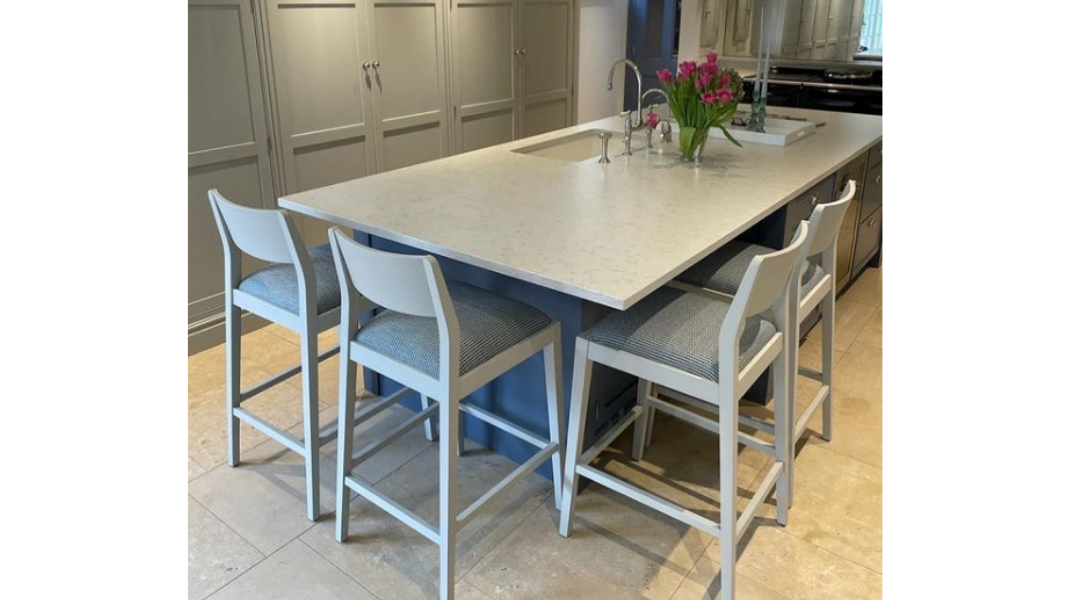 5. Made to Order, Built to Last
Your bar stools are one of the most important elements in your kitchen. If you buy them well, you can bet they will last you for years to come. Our Gabriella James bar stools are handcrafted to perfection, and assembled in Kent, using only traditional methods to achieve a flawless finish and give a level of comfort that will surpass anything on the high street. Our made to order bar and counter stools will be that beautiful finishing touch to your kitchen and will last a lifetime.