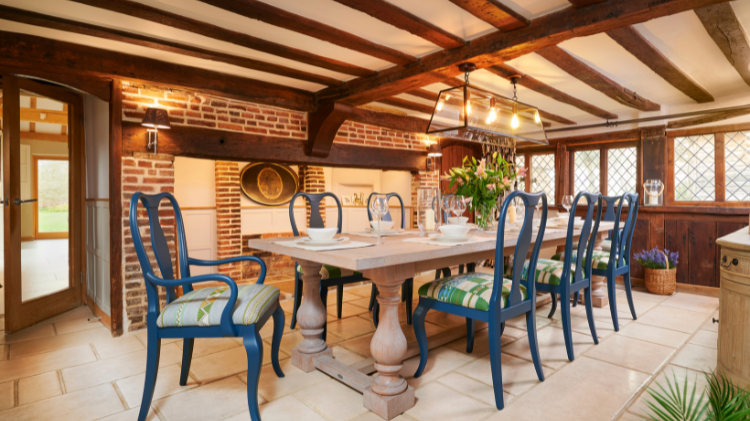 In the realm of high-end home design, one of the best things you can accomplish is the art of creating sociable spaces. These spaces serve as the heart of your home, where memories are made, moments are shared, and conversations flow effortlessly. In this blog, we'll delve into the elements that elevate your spaces to the supreme.
Kitchen Islands
A high-end kitchen island is a culinary symphony, and the seating around it plays a huge role in its performance. Whether you're catching up with friends over a coffee, hosting a dinner party, or simply debriefing after a busy day at work, the kitchen island is usually the first port of call in the house. Incorporating  luxury bar stools into your kitchen and around your island is a great way to create a more sociable space. When choosing the perfect bar stools, consider colours that exude sophistication. Deep blues, lush emeralds, and rich reds will transform your kitchen island into a focal point that guests will love to sit around. Add homely touches like vases, flowers, and cookbooks, and keep the space clutter-free to attract guests to the space when they visit.
Dining Rooms
Dining rooms are making a comeback as people are starting to rediscover the joy of hosting gatherings in the comfort of their homes again. These versatile spaces offer the perfect setting for shared meals, intimate conversations, and cherished family interactions. To create a dining room that is great for socialising, embrace colour, pattern, and playful décor to show your personality. Elevate the dining experience by choosing  beautiful dining chairs that not only exude subtle or bold charm, but also provide a level of comfort that will undoubtedly earn your guests' admiration. Dining rooms are no longer just a space to eat, they have transformed into spaces for sipping drinks, engaging in lively conversations, indulging in games, and enjoying the warmth of each other's company.
Home Bars
Whether you're incorporating a classic bar cart or a fully functional bar complete with pumps and bar stools, a bar is a luxurious addition to any home where friends and family can relax and unwind in the comfort of the home. A home bar is more than just a place to serve drinks, it's a place to entertain, escape, and enjoy. When designing your home bar, choose seating to accompany you nearby so you don't have far to go for your favourite drink. Consider introducing vibrant colours into the mix to make a bold statement, infusing your bar area with an irresistible blend of energy and sophistication.
Outdoor Spaces
Transforming your garden into more sociable space not only allows you to enjoy the beauty of nature, but it also is a space where you can create lasting memories with your loved ones. To achieve this, selecting outdoor seating that harmonises with the natural surroundings is key. Materials like teak or rattan prove to be excellent choices, as they seamlessly integrate with the outdoor environment. Enhance the comfort factor by incorporating cushions in earthy tones, adding a touch of cosiness while keeping in tune with the outdoor aesthetic. Your outdoor area is an extension of your home, a sanctuary where you can escape the hustle and bustle of daily life and truly unwind. Here, you can savour the serenity of your garden, bask in the warmth of the sun, and relish the joy of shared moments with friends and family.
In the pursuit of creating sociable spaces within your home, remember that seating choices are pivotal. They not only contribute to the overall aesthetic, but they also play a crucial role in ensuring comfort and functionality. By harmonising your choices with your existing decor, you can transform your home into a warm and inviting haven where connections are nurtured, conversations flow, and memories are made!